The UN Trust Fund to End Violence against Women provided funding to Pragya's initiative "Comprehensive Primary Prevention Programme Addressing Violence against Ethnic Minority Women in India". Implemented in five states, the project tackled violence against tribal women in broad areas – legal and political; youth education; prevention mechanisms; and support services. The evaluation concluded that the project significantly contributed to positive change in the lives of women in the targeted communities, and that knowledge generation will help sustain the progress made.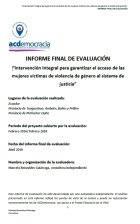 The project "Comprehensive Intervention to Guarantee Access to Justice for Women Victims of Gender-Based Violence", implemented by ACDemocracia, was funded from February 2016 to February 2018 by the UN Trust Fund to End Violence against Women. The final evaluation found that strategic partnerships – in this case with national and local authorities – were crucial to the project's successes, which included improved access to justice for survivors of violence and a new law.
Women's Initiative for Gender Justice received a grant from the UN Trust Fund to End Violence against Women for its project "Advancing Gender Justice in Countries under ICC investigation" from January 2013 to December 2015. The evaluation found that the project improved medical and psychological documentation of sexual assault, strengthened police investigations and increased the likelihood of justice and reparations for women and girl survivors of sexual violence.