Cambodia Women's Crisis Center, in partnership with ADD International, implemented the project "Promoting Women's Dignity" with support from the UN Trust Fund to End Violence against Women. The project aimed to improve quality service delivery, develop policy and promote positive changes in attitudes in five provinces.
As a part of a six-year project, the Victims Support Section of the Extraordinary Chambers in the Courts of Cambodia, in collaboration with the Transcultural Psychosocial Organization Cambodia and the Cambodian Defenders Project, implemented Phase 2 of the Non-Judicial Gender Project. The final evaluation concluded that the project significantly contributed to positive change in the lives of target groups through transitional justice activities and initiatives to improve their access to psychological services and rehabilitation.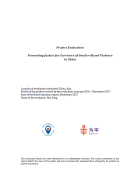 The project "Promoting Justice for Survivors of Gender-Based Violence in China", implemented by Equality in collaboration with Common Language, Women's Network Against AIDS-China and Media Monitor for Women Network, was funded from January 2016 to December 2017 by the UN Trust Fund to End Violence against Women. The final evaluation found the project had successfully leveraged a network of NGOs to tackle domestic violence faced by women and girls, including lesbian, bisexual and transgender women; and those impacted by HIV/AIDS.