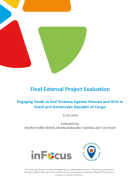 The project "Engaging Youth to End Violence against Women and Girls in Brazil and Democratic Republic of Congo", implemented by Promundo in Brazil and their partner HEAL Africa in DRC, was funded from January 2015 to December 2017 by the UN Trust Fund to End Violence against Women. The project worked with adolescent girls and boys in schools, providing group education and counselling. The final evaluation found that the model developed to break the inter-generational transmission of violence was somewhat effective for addressing attitudes, behaviour and responses related to violence.
Women's Initiative for Gender Justice received a grant from the UN Trust Fund to End Violence against Women for its project "Advancing Gender Justice in Countries under ICC investigation" from January 2013 to December 2015. The evaluation found that the project improved medical and psychological documentation of sexual assault, strengthened police investigations and increased the likelihood of justice and reparations for women and girl survivors of sexual violence.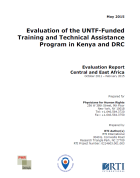 The UN Trust Fund to End Violence against Women funded Physicians for Human Rights' three-year initiative "Formation of a Medico-Legal Network to Address Sexual Violence in Armed Conflict in Central and Eastern Africa" from September 2011 to August 2014. The project aimed to provide professionals with the resources, knowledge and skills needed to support survivors of sexual violence. The final evaluation concluded that a survivor-centred approach enabled the programme to achieve positive change in the targeted areas.