From January 2016 to January 2019, the UN Trust Fund to End Violence against Women worked with the National Network for the Promotion of Women (RNPM), helping fund its project "Older Women who have Experienced Violence Exercising their Rights". The final evaluation found that the project was largely successful, and through its training and empowerment strategies it reached 415 women who had experienced gender-based violence.
From January 2013 to December 2015, DEMUS led a project to further the rights of women who have experienced gender-based violence in six Peruvian judicial districts, specifically by improving the women's access to justice. The final evaluation found that the institutional changes achieved were significant, but stressed the importance of implementing monitoring and evaluation measures to sustain the changes.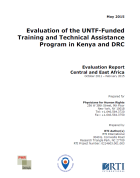 The UN Trust Fund to End Violence against Women funded Physicians for Human Rights' three-year initiative "Formation of a Medico-Legal Network to Address Sexual Violence in Armed Conflict in Central and Eastern Africa" from September 2011 to August 2014. The project aimed to provide professionals with the resources, knowledge and skills needed to support survivors of sexual violence. The final evaluation concluded that a survivor-centred approach enabled the programme to achieve positive change in the targeted areas.