This independent, final evaluation presents the findings of the cluster evaluation of three small grant projects implemented between March 2017 and February 2020 and funded by the UN Trust Fund to End Violence against Women:1. "Improving Access to Life With No Violence for Women Survivors in Central and Northern Montenegro", implemented by SOS Hotline for Women and Children Victims of Violence, Niksic;2. "Empowering Survivors of Domestic Violence in the Tetovo Region", implemented by Women's Forum–Tetovo in Montenegro; and3. "Actively and Publicly Combating Discrimination – Gender Based Violence", implemented by the Center for Girls in Serbia. The final evaluation found that the empowerment and awareness-raising strategies implemented by the projects were effective, innovative and well adjusted to the target groups.
Women's Initiative for Gender Justice received a grant from the UN Trust Fund to End Violence against Women for its project "Advancing Gender Justice in Countries under ICC investigation" from January 2013 to December 2015. The evaluation found that the project improved medical and psychological documentation of sexual assault, strengthened police investigations and increased the likelihood of justice and reparations for women and girl survivors of sexual violence.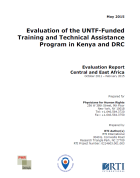 The UN Trust Fund to End Violence against Women funded Physicians for Human Rights' three-year initiative "Formation of a Medico-Legal Network to Address Sexual Violence in Armed Conflict in Central and Eastern Africa" from September 2011 to August 2014. The project aimed to provide professionals with the resources, knowledge and skills needed to support survivors of sexual violence. The final evaluation concluded that a survivor-centred approach enabled the programme to achieve positive change in the targeted areas.