Final Evaluation: "Let's Promote Justice for Our Women and Girls of Sierra Leone"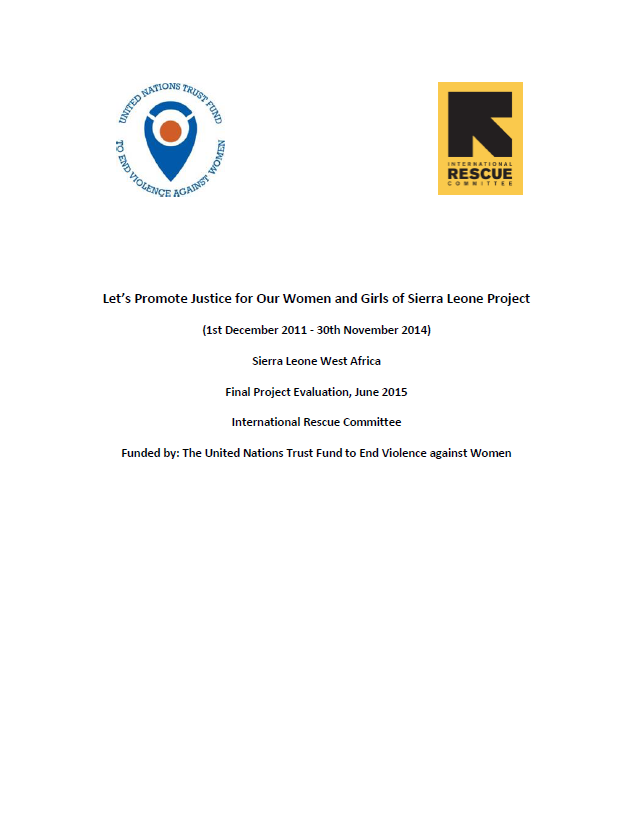 Grantee: International Rescue Committee, Sierra Leone
Countries: Sierra Leone
Period: December 2011 to November 2014
Grant amount: $750,000
Publication description. The project aimed to improve access to timely and fair justice for women and girls in the formal legal system. It worked with partners to: strengthen national legislation on violence against women and its implementation and enforcement; improve the links between the formal and informal justice systems; increase public awareness of new laws through a wide range of training activities and radio programmes; and strengthen coordination and service delivery of key service providers.
Main findings of the evaluation:the project had achieved significant success at the community level, where training on gender laws ignited conversations among women on the possibility of life without violence and communities where women are treated with dignity and respect;
the training built on existing solidarity and cohesion, thus allowing women to believe in the possibility of a life free from violence;
the training sparked dialogue around sexual and gender-based violence, and gave women space to reflect on their experiences and to question the cultural narratives that normalize and justify violence against women; and
the project had increased the confidence of women to speak in public, seek electoral positions, ask for help when violated and help other women to access justice.
Bibliographic information