Final Evaluation: "Traditional Leaders Championing Prevention of Domestic Violence in their Communities in Lesotho and Malawi"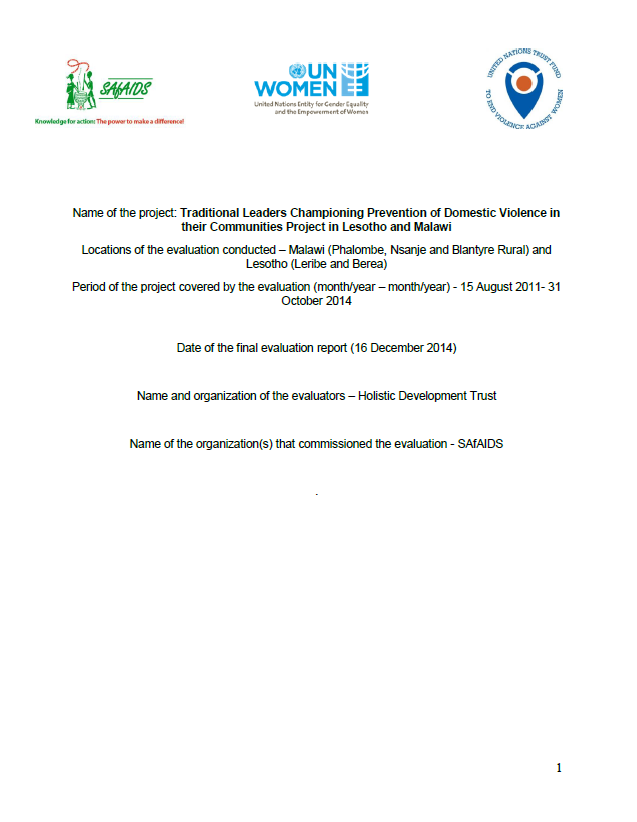 Grantee: Southern Africa HIV and AIDS Information Dissemination Service (SAfAIDS)
Countries: Lesotho and Malawi
Period: September 2011 to August 2014
Grant amount: $997,817
Publication description. The goal was to contribute significantly to the prevention and eradication of intimate violence/domestic violence against women aged 15-49 in Lesotho and Malawi through promoting gender equality, ensuring women's rights and reducing harmful cultural practices that fuel violence against women.
Main findings of the evaluation:
significantly reduced domestic violence in target communities;
increased the capability of women and girls to realize their rights and influence decision-making;
enabled traditional leaders to conduct domestic violence and HIV awareness campaigns, and address domestic violence cases;
increased the capacity of formal and informal structures to deal with domestic violence;
raised the level of government commitment in both countries to address gender-based violence and HIV issues; and
used existing community structures, making it sustainable through community ownership.
Bibliographic information