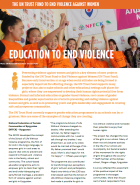 Preventing violence against women and girls is a key element of most projects funded by the UN Trust Fund. Because early intervention at an age when social attitudes are being formed is especially important for effecting change, the UN Trust Fund supports many projects that aim to make schools and other educational settings safe places for girls, where they are empowered to develop their human rights potential free from violence.
The UN Trust Fund to End Violence against Women (UN Trust Fund) recognizes the often acute and high levels of global violence against indigenous women, including femicides and disappearances. For this reason, many of the projects it supports aim to prevent violence or ddress the factors that contribute to violence against indigenous women.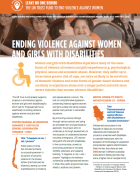 Women and girls with disabilities experience many of the same forms of violence all women and girls experience (e.g. psychological, physical, sexual and economic abuse). However, they suffer up to three times greater risk of rape, are twice as likely to be survivors of domestic violence and other forms of gender-based violence and are likely to experience abuse over a longer period and with more severe injuries than women without disabilities.The UN Trust Fund supports projects to end violence against women and girls with disabilities.